Vanilla & Pear Candle- 8 oz
Tenfed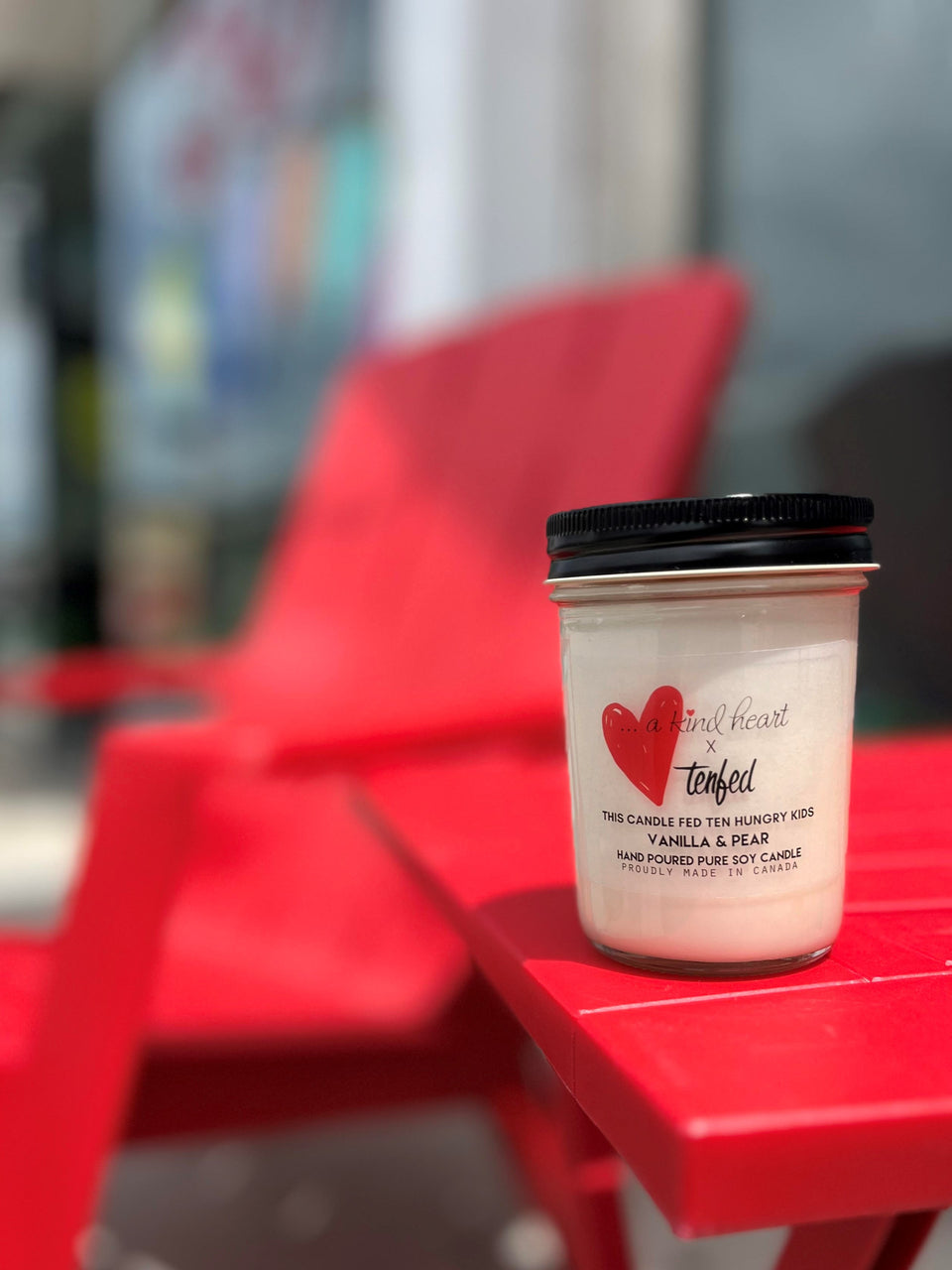 A VERY SPECIAL COLLAB BETWEEN TWO TERRIFIC COMPANIES...
A Kind Heart partnered with Tenfed to create a limited edition custom scent that we really hope you'll love as much as we do!❤
Tenfed is a lifestyle brand based in Toronto that offers unique, meaningful apparel, candles and accessories with the mission to provide as many meals as possible to people in need. For every Tenfed item sold, 10 meals are provided to people suffering from food insecurity around the globe.
A Kind Heart is North America's first brick & mortar charitable concept store. We only house brands that give back to charities and causes around the world. Our mission is to make a difference in the world we live in. We pride ourselves on helping to change the world, one act of kindness at a time. 
Details
Hand poured in Collingwood, Ontario
Soy wax
50-60 hours of burn time
Biodegradable
Meet FDA standards
Kosher certified
Not tested on animals and contains no animal products
Free from synthetic fragrances, palm wax, petroleum, parabens, phosphates, paraffin, pesticides or herbicides
Phthalate free and contain no harmful ingredients linked to allergy-like symptoms, such as aggravated asthma or an irritated respiratory tract 
They carefully source all their wax from companies that are committed to meeting the highest of standards
FOR EVERY TENFED ITEM SOLD, 10 MEALS ARE PROVIDED TO PEOPLE SUFFERING FROM FOOD INSECURITY AROUND THE GLOBE.
READ MORE ABOUT THIS CHANGEMAKER
HERE.
Post Your Purchase On IG @akindheartstore
#akindheartstore #makingadifference #givingback